Featured Article
The American Orient Express
The Landscape, The Luxury, The Legend
Written by Christina Duane
Originally Published in Grand Tour Magazine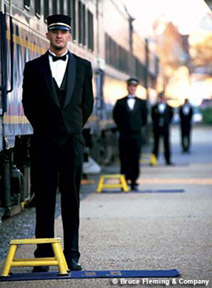 The Legend
Over one hundred years ago the great Railroad Tycoons James Hill and Edward Harriman were said to be spending one million dollars per mile of track laid as they raced each other west on other either side of the Columbia River Gorge heading toward Portland Oregon. The Union Pacific and the Great Northern Pacific would make it within weeks of each other completing that legendary journey from east to west that would mark the beginning of America's love affair with rail travel.
It is not surprising that it was an Oregon entrepreneur, Henry Hillman Jr. that would facilitate the return of the "Golden Age of Rail Travel" with The American Orient Express. In the words of Hillman, "The idea came to me in 1994 aboard a Seabourn ship, on a cruise to Normandy. I had a great time on the ship, and it got me thinking that I'd love to see the Grand Canyon, Yellowstone, and other great places in the United states in this same style."
Indeed, The American Orient Exress, owned by Oregon Rail Holdings, LLC, of which Hillman is CEO, offers a travel experience that even surpasses that of fifty years ago when breathtaking panoramas were enjoyed from within beautifully appointed rail cars. These luxurious cars featured Architectural details found in fine hotels and aboard the luxury liners of the day and much like a voyage, getting there was half the fun as the train served as a hotel, five star restaurant and entertainment with vista views out every window..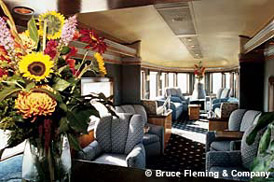 The Luxury
Like the streamlined trains of Europe that preceded it and share a similar name, the American Orient Express delivers excellence in service, perfectly appointed accommodations, and epicurean delights. The 16-Carriage train has been restored at what it cost the great Tycoon's to lay 15 miles of track with stylish appointments such as inlaid mahogany paneling in the dining cars, brass and leather in the club cars and polished brass in the sleeping cars. These cars each have their own history such as the observation car which was dedicated in 1948 by Dwight Eisenhower and served 20 years on the New York Central's famous 20th Century Limited. Today each car features new air-conditioning, heating electrical and plumbing systems, and state-of the-art safety features.
As you would expect, a classically trained service staff caters to a passengers every need and with less than 100 passengers on any given itinerary, passengers are indulged with highly personalized service. Fine wines are available in the club cars, with complimentary selections at dinner. A pianist provides music during the cocktail hour, which features hors d' oeuvres, as historians and lecturers present in-depth background on the route being traveled. Delectable multi-course regional specialties are presented and enjoyed in exquisite surroundings. Upon retiring for the evening in well-appointed compartments, passengers can slip into their plush terry robes provided for them and enjoy a restful sleep with a full day of pleasurable relaxation to remember. Just as was the case in The Golden Age of Rail, dining while enjoying social interaction and changing scenery is irresistibly enchanting especially when the scenery is that of the American landscape.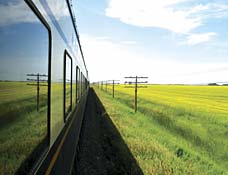 The Landscape

"National Parks of the West", is just one of nine picturesque itineraries comprising the tours of The American Orient Express, offering passengers the opportunity to travel over tracks that have not seen passenger trains in more than a half-century. These tracks, called "rare mileage" by train enthusiasts cover the most scenic wilderness areas in America, many only accessible by rail. Time off the train on day excursions; take passengers to interesting sites, including a renowned winery in California's Napa Valley, the South Rim of the majestic Grand Canyon National Park, Canada's expansive Athabasca Glacier, or a historic, Antebellum plantation in the South. Land tours led by naturalists and historians add yet another dimension to the experience.

From the spectacular foliage of "Autumn in New England and Quebec", the graceful Southern tour of "Antebellum South", and the glowing South West tour of "Copper Canyon and Colonial Mexico", to the California coastal tour, "Pacific Coast Explorer", "The Great Northwest and Rockies" and "The Epic Journey of Lewis and Clark", The American Orient Express is touring the Nation in impeccable style.

Somewhere out there on the American Landscape, one hundred pampered passengers are hailing back to a bygone era and creating memories they will take into their futures as they recall how they discovered America, once upon a rail.

For tour dates, rates and itineraries click here