Featured Article
Alpaca-Ranching Essentials
Contributed by Alpacas at Lone Ranch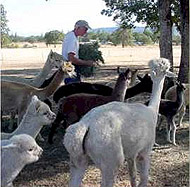 A few Alpaca facts:
Alpacas are earth friendly, they browse on natural grasses without harming trees or terrain.
Alpacas are safe, easy to handle, they do not butt or bite.
Alpacas are easy to raise, requiring minimal feed, shelter, fencing, or veterinary care.
Alpacas are not killed, instead they produce a renewable cash crop in the form of fiber.
Alpacas are fully insurable against loss and come with reproductive guarantees.
Alpacas have tax advantages such as expense deduction, depreciation, and the deferred recognition of accumulating wealth.
Lifespan: 15 to 20 years.
Average height: 36" at the withers.
Average weight: 15 to 19 pounds at birth, they grow to 100 to 175 pounds, less than 1/2 the weight of a Llama.
Average Gestation: 335 - 350 days and virtually never twins.
Birth: Babies usually try to stand within 30 minutes and nurse within 1-2 hours. Birth almost always occurs between 9am and 2pm allowing you to sleep comfortably through the night.
Breeding: Alpacas do not come into heat, allowing ranchers easy control of the birthing season and planning for extended vacations.
Colors: Alpacas come in many colors, more than 22 natural variations and blends.
Alpacas were a cherished treasure of the ancient Inca civilization. They played a central part in the Incan culture that was located on the high Andean plateau and mountains of South America. Alpacas, and their cousins, the Llama, have been domesticated for some 6,000 years.
Some alpacas can be purchased as pets for as little as $600 each. But many people like to breed and ranch alpacas: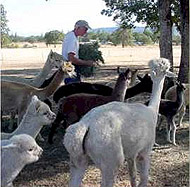 A Typical Alpaca-Ranching Investment
There are many financial scenarios for beginning alpaca-ranching. However the one described here would not be unusual.
Initial Cost - $25-$35,000 * * does not include land, fencing, facilities etc.
Includes:
Bred (pregnant) female
Young Yearling female
Adult intact male
Gelded male
FREE set up of animal and business operations
Estimated Income - $10-$12,000/year *
* assumes average sale prices and typical expenses at $200-$400 per alpaca/yr
Young females - $8-$12,000
Young males - $2-$5,000
Estimated Tax Benefits - $25-$30,000 plus *
* all expenses are deductible, all development costs are depreciated
Year I - expenses + $20,000 depreciation.
Year II - expenses + $5-$10,000 depreciation.
Year III and on - expenses + remaining depreciable costs e.g. alpacas, home office, truck, barn, fence, computer, camera, etc.
Key Ingredients For Success - We have been very successful as a medium-sized ranch, however some others have not. Discussions with many newcomers indicate the following as important ingredients for fiscal success.
Love of the animals such that routine care is smoothly done by the owners without employees.
Acknowledging the business aspect of alpaca-ranching and following a simple marketing and sales plan.
Being in a financial position to take full advantage of the many tax benefits.
Luck - the birth of females facilitates sales and herd growth. While the odds are 50/50 for males to females, at times one or the other can seem to predominate and thus slow or speed the process.
For each of the last several years we have legitimately paid many thousands of dollars less in taxes than if we were not in the business of alpaca ranching. Advice on taxes came from The Farmers Tax Guide, a publication obtained directly from the IRS and our tax consultant.
While we cannot offer you tax advice, we can share our experiences with you:
The IRS allows deduction of 100% of direct expense from our taxes. Major expense items for deduction are:
Feed - about 25 cents/animal per day.
Veterinary - about $25/animal annually. We have kept our expense down by learning to give our own medications and vaccinations.
Travel - all of our local and distant business related travel.
Maintenance and repair - to all business related structures and equipment.
Services - accounting, tax, legal, education, and advertising.
And, the portion of our home expenses that are allocated to our at-home office, i.e. phones, utilities, insurance, and maintenance.
In addition the IRS allows us to depreciate tangible personal property off our taxes. Major items for depreciation are:
Alpacas - 100% of the cost of the alpacas depreciated over 5 years.
Vehicles and equipment including computers, cameras, fax and cell phones.
Facilities - the outbuildings used for storage, feeding and sheltering alpacas.
Fencing - of our properties and pastures.
And, a portion of the cost of construction and use of our home as an at-home office.
Also, Section 179 of The Farmers Tax Guide allows us to accelerate depreciation of $20,000 of our startup costs into one year. Section 179 has resulted in a marked reduction in the taxes that we have ultimately paid each year.
Perhaps the biggest advantage of all has been our ability to build net worth on a tax-deferred basis. We are allowing a portion of our herd to multiply and grow over time without paying taxes on the increased size and value until the alpacas are sold.
© Copyright 2005 Alpacas at Lone Ranch. No unauthorized duplication without written consent.