Featured Article
Ashland Springs Hotel Announces Opening of
"Larks" Restaurant - Home Kitchen Cuisine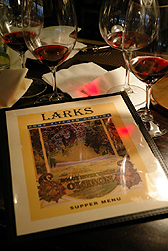 Larks - Home Kitchen Cuisine at the historic Ashland Springs Hotel is open. Come and celebrate the Oregon story - its farms, orchards, vineyards and chocolatiers. Southern Oregon has become a mecca for award winning products including cheeses, fruits and chocolates. Our Executive Chef Damon Jones, formerly of Emeril's of New Orleans and Executive Chef of Sunriver Resort's Crosswater restaurant makes weekly visits to the growers' market in Ashland to purchase the freshest produce to create his comfort food from scratch. Larks' wine list has been created by Guy du Vin, Dave Holstrom, with special attention to our great Oregon wines. This list will impress all wine connoisseurs!
The philosophy of Larks (short for Meadowlark- the state bird) created by owners Doug and Becky Neuman is best described as "Farm to Table" - pairing the freshest foods from our local farms with great wines, artisan chocolate desserts and drinks in a relaxing and soothing atmosphere. Comfort food is Larks' specialty. Dishes like homemade meatloaf and Anniebelle's fried chicken are most popular. And there are creative twists on old favorites like local vegetable Shepherd's Pie with mashed celery root. Other specialties include Anderson Ranch Osso Bucco and Maple glazed pork chops with apple compote made from the organic apples at the Neuman's Farm. Ingredients like truffle oil, wild mushrooms, hazelnut, pear and marionberry layer in the Oregon flavor. And for dessert it's Dagoba chocolate sundaes, Endangered Species truffles and butterscotch cookies inspired by Aunt Ella's 1932 recipe served with pudding just to name a few.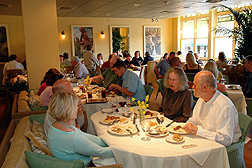 Unique furnishings such as two and three person settees layered with cushions and pillows create comfortable seating arrangements at the tables while loom chairs painted in sage, olive and mustard colors are mixed about to give a casual, eclectic feel.
The artwork, lamps and even the waiters' ties have been specially collected by Becky Neuman, also the designer, to reflect a 1940's nostalgia, which compliments the charm and casual elegance of the Ashland Springs Hotel.
Larks is open daily for Lunch from 11:30am till 2:00pm and dinner from 5:00pm till 10:00pm. A very special treat for all true lovers of chocolate delights and beverages is the Chocolate Café open daily from 2:00pm till 5:00pm. Café-style outside dining is coming in June.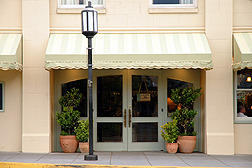 "Great cooking is the accumulation of the details done to perfection." Chef Damon Jones
For more details contact Michelle Glass, Restaurant Manager at 541.488.5558