Featured Article
Britt Festivals, Southern Oregon University Collaborate on Summer Performing Arts Camps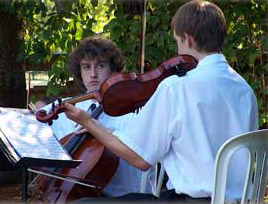 MEDFORD, OR - Britt Institute summer offerings feature five camps, over one-hundred aspiring musicians, world-class faculty, student recitals, faculty recitals, master classes, lectures and adventures. Each summer, the Britt Institute offers young musicians a chance to study and perform with some of the nation's top professional musicians and instructors. These one- and two-week camps are intensive, challenging and inspiring.
Britt Festivals joins forces with Southern Oregon University to present three of those programs-the Siskiyou Saxophone Workshop, Vocal Arts Institute and International Piano Institute. Britt Festivals Education Director Joelle Graves says of the collaboration, "It is our unique opportunity to be able to offer access to professional performers. Students attending these camps attend performances on the Britt hill and work with faculty from SOU and universities throughout the United States. As we provide our expertise in the performance arena, SOU provides the perfect atmosphere and accommodations in which these students may enjoy a week or two of intense music studies." The Britt Institute also offers music camps in instrumental jazz and chamber strings, based in Ashland and Jacksonville. Registration deadline for camps is March 1 except for the Piano Institute and Vocal Arts Institute which is April 1, 2006.
The Britt Institute Instrumental Jazz Camp, for middle and high school students is from June 18-24. Tuition is $350, room/board $350. Britt's Instrumental Jazz Camp features instruction in all aspects of jazz studies. Participants are placed in small combos and big bands based on ability and experience. Dana Landry, 2006 Grammy nominee and an inspirational jazz pianist in his own right, leads an energetic and experienced faculty. Participants receive group instruction in improvisation, jazz theory and history, technique and performance. Master classes, jam sessions, faculty recitals and attending Britt Festivals concerts are just part of this week-long opportunity to study with some of the nation's top jazz educators. In past years, students have met Herbie Hancock, Al Jarreau and Wynton Marsalis. The week concludes with two concerts highlighting the work students have done in their small combos and big bands. Families are invited to a closing day luncheon prior to the final concert.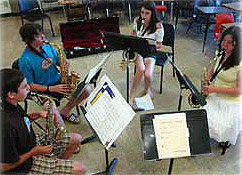 The Siskiyou Saxophone Workshop is for middle school to adult students and is held June 26-30. Tuition is $300, room/board $350. One of only a few camps in the United States with a saxophone emphasis, this is a unique opportunity for attendees to explore the challenge of small saxophone ensemble performance as well as orchestral arrangements for saxophone. Participants are placed in quartets based on ability and experience. Led by Dr. Rhett Bender, the camp takes place in Jacksonville and features faculty performances, master classes in classical and jazz methods, attending Britt Festivals concerts and performing as guests with the Ashland City Band. Master classes with Britt Festivals' artists are an added bonus. The faculty are four of America's best classical saxophone teachers who bring to their teaching a wealth of experience on the world's classical stages.
The Chamber Strings camp is for middle and high school students, July 30 to August 12. Tuition is $700, room/board $700. Students at this camp explore the exciting and intimate world of chamber music. The Arianna String Quartet, guest artists from the University of St. Louis, creates a curriculum that includes ensemble rehearsal, coaching sessions, master classes, individual private lessons, sight-reading and score study. Participants also attend Britt Festival orchestra performances featuring violinists Sarah Chang and Hilary Hahn. This camp is open to intermediate to advanced string students.
The International Piano Institute under the leadership of Dr. Alexander Tutunov is for intermediate to advanced students of all ages from July 31 to August 6. Tuition is $350, room/board $350. Britt Festivals is proud to offer this prestigious program that takes place on the campus of Southern Oregon University during the Classical Festival. The master class format is the emphasis of the week as faculty members focus on performance, interpretation technique and other aspects of piano performance and preparation. During the week, participants attend evening faculty recitals, Britt Festival orchestra rehearsals and performances and the master class featuring pianist Jon Nakamatsu.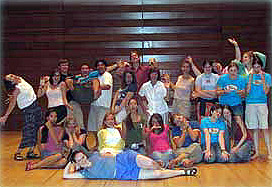 The Vocal Arts Institute led by Dr. Fredna Grimland is for high school through adult students, August 6-13. Tuition is $350, room/board $350. Camp attendees spend an exciting week on the campus of Southern Oregon University studying various techniques of classical voice. Students participate in master classes while receiving instruction in vocal technique, repertoire selection, performance etiquette, acting and movement for the singer, opera and private lessons. Faculty includes Oregon Shakespeare Festival actor David Kelly and Fredna Grimland of Southern Oregon University. Special guest faculty are San Francisco baritone Michael Morris and Marcie Stapp, author of The Singer's Guide to Languages and faculty with San Francisco Conservatory of Music.
Established in 1985, the Britt Institute also provides year-round learning opportunities through pre-concert lectures, its model program Music in the Mornings, workshops and artist residencies. For more information about these summer camps and The Britt Institute, visit Britt on the web at www.brittfest.org or call 541-773-6077 or 1-800-882-7488. Britt's office is open 8:30 a.m. to 5:30 p.m., Monday thru Friday at 216 West Main St. in Medford.
Britt Festivals is a non-profit organization that presents and sponsors performing arts and supports those activities through on-going education and audience development programs and through cooperation with educational, civic, cultural and governmental organizations in Southern Oregon. In addition to maintaining a formal education program, Britt honors its mission through the engagement of the world's top performers representative of diverse genres.