Featured Article
Columbia River Gorge Hotel
Written By Christina Duane
Copyright Purpose Media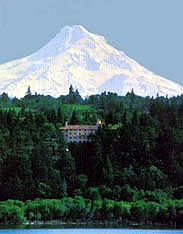 Perched high above the mighty Columbia River, on a cliff overlooking a plunging waterfall is a grand and elegant lady in all her splendor and the opulence, the beautiful historic Columbia River Gorge Hotel.
Approaching the Hotel, the circular drive curves through majestic trees, around sprawling lawns and exquisite gardens with storybook wooden bridges and waterways and a bench swing that offers a relaxing spot to take it all in. This is the first impression as the visitor approaches this perfectly restored grand hotel. The lobby, filled with rare antiquities, fine art and period furniture welcomes the visitor who can immediately sense the historic significance and rich tradition of this magical place.
The view of the mighty Columbia River Gorge from the inside dining room, tea room, outside patios and many of the rooms is breathtaking as a bald eagle flys from tree to tree and migrating swallows circle above. Peering outside from an upstairs window, guests can see the Wa-Wa Waterfall plunging over the cliff the light of a passing train can be seen through a tunnel of trees as it hugs the tracks at the cliff bottom.
The elevator attendant dressed in his uniform recites the history of this elevator, moving it's big brass handle into position. This was the first elevator installed in the area, made by the famous Otis Elevator Company, installed by Mr. Otis himself in 1921. The very first one of its kind went into operation 10 years prior in New York City at the Carabelo Hotel.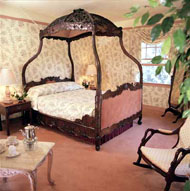 The rooms of The Columbia River Gorge Hotel are richly appointed in fine furniture, antiques, plush linens, damask and velvet. Sitting areas with Queen Anne Chairs, classic themed artwork and large view windows to take in the view of this great river and its mountain skyline all from cliff top framed in pine.
It is not wonder this incredible resort has been named the Best Romantic Hotel and Restaurant in Best of City Search 2002 and in Zagat Survey in 2001 "Top US Hotels and Resort Spas and was listed in the Top 10 Most Romantic Inns in American Historic Inn's 2002.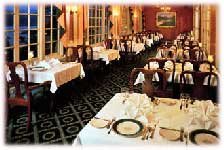 This restored landmark hotel etched into the landscape with stone roadwork that ties right into the historic highway is truly unforgettable. This is why it is the chosen wedding destination for many who are married in gardens, overlooking the Gorge, who celebrate in style and elegance returning to re-live the passion year after year.