Featured Article
Rising Sun Farms - A History
The Roots of the Farm
After ten years of college coupled with seven years in big business, it became clear that there was more to life than a good job. In 1976, Elizabeth, founder of Rising Sun Farms, signed on as a cook on ocean racing yachts. This provided a way to travel to ports throughout the world and shop fresh markets offering a variety of exotic ingredients. Although her cooking expertise was not her best asset, Elizabeth soon became well known within the circle of yacht racers for menus using the freshest ingredients and in particular, fresh herbs. Word of her culinary creations and status as a chef traveled with the winds. Elizabeth started receiving requests for her recipes and, as a way to finance continued travels, she began making and selling gallons of pesto sauces to other yachts.
Elizabeth met her husband Richard in 1980, he was a ship captain in the West Indies. They sailed the east and west coasts looking for the perfect place to drop anchor. Soon their first crewmember arrived, daughter Caylei. Sailing had always been their life; however, they needed to put down roots. Thus began the search for a healthy environment to retire and raise a family.
They chose a remote pristine farm in Southern Oregon. Their deep-seated quest to raise a family in a clean environment duplicating their seafaring standard of self-responsibility and self-sufficiency had been realized. By this time, their son Pep had joined them on the farm.
Their retirement was short lived however, as new challenges lay ahead. The land and farm equipment purchases had depleted their savings. How was the farm going to provide a living? What crop would grow at the farm's 3,000-foot elevation with hot, dry summers and mild winters? Their research coupled with an ever-expanding library of organic farming manuals provided the answer.herbs - the beginning of Rising Sun Farms!
The Need
There was a discernable lack of organic foods, especially, organically grown fresh herbs, herb plants, dried herbs and specialty herb products. The use of chemicals in farming was increasing and was a major concern to Elizabeth and Richard. Using chemicals yielded bigger harvests, cut down on labor, but what hazards did their consumption pose to people? The idea of putting poison on food was out of the question! Their mission became clear.
Mission Statement Evolved
Provide healthy food utilizing the highest quality clean ingredients while supporting organic and sustainable agriculture. Our actions today will influence the seventh generation. We must take care of our mother earth now for the children of today and tomorrow.
The First Products
In 1984, in a yurt (nomadic Mongolian tent) using a generator to operate a small food processor, the first fresh pesto sauces (using their organically grown basil) were manufactured for a local market by Rising Sun Farms®. The response was so positive and the demand so great that it necessitated a larger certified kitchen. A small manufacturing plant was built on the farm. Soon the products extended to include a variety of pesto sauces, dried tomatoes, cheese tortas, vinaigrettes, oils and vinegars.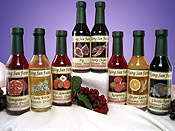 A Broader Horizon
Rising Sun Farms'® vision broadened over the horizon to larger metropolitan areas on the West Coast. The health food industry was just emerging, the gourmet industry was getting better organized, and the grocery business was expanding to include gourmet and health foods. Educated consumers were becoming more interested in healthy, convenient, chemical free foods with informative and exciting packaging. Rising Sun Farms'® products were perfect. However, what Richard and Elizabeth needed was distribution.
Inspiration!
Looking for the "big sale," a presentation was made to a gourmet food distributor in Portland Oregon. It was at this meeting that the strategy was revealed which became the marketing plan for the expansion of the business. The distributor proclaimed, "I love your products and the packaging is superior, however, no one has asked for your products." Eureka.inspiration! Get your consumers.retailers and distributors will follow.
Getting the Consumers
The family team assembled and started tasting and selling their products at consumer shows, farmers' markets and craft fairs along the West Coast. The direct sales approach as the "Farmers You Could Trust" growing organic herbs and making delicious products of consistent quality brought a loyal following to Rising Sun Farms®. Customer education was foremost. Little was known or understood about "organic" products and for that matter pesto sauce.however, the convenience and flavor sold them. The consumer shows provided cash flow while the family turned all of their "loyal consumers" into their sales force. Consumers were given cards to take to their local stores requesting that the markets carry Rising Sun Farms'® products. The strategy worked! Retailers and distributors followed.
Today Rising Sun Farms® has distribution throughout the United States, exports to Japan, Holland and New Zealand. Since their employees are their most valuable asset and are always referred to as 'The Can Do Crew', a visit to Rising Sun Farms is always a pleasure!
Please call to order any of their fine products, or visit the tasting room and store. Hours vary seasonally. Call for current store hours. Visit on the web at www.risingsunfarms.com
Rising Sun Farms
5126 S. Pacific Hwy.
Phoenix, Oregon.
(541)-535-8331 ext. 201
©2007 Rising Sun Farms - All rights reserved