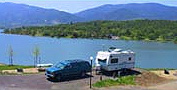 Emigrant Lake
Jackson County, Southern Oregon ption: Sometimes spelled Immigrant Lake, refreshing summer fun can be found in Emigrant Lake park's 280-foot twin flume waterslide. The slide offers dressing rooms, showers, restrooms, picnic tables and a concession stand with a full menu.
Recreation: Boating, Fishing, Hiking, Camping, Picnicking, Playgrounds & Water Slide
Location: Located 6 miles SE of Ashland at 5505 Hwy 66
Click here for information on prices and hours of operation.