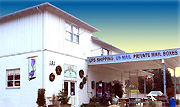 Applegate Valley Wine & Gifts
Ruch - Southern Oregon
Applegate Valley Wine & Gifts Has been providing the Applegate Valley community postal services since 2004. Among some of their ongoing services are private postal mailbox rentals, UPS drop off and UPS shipping. 24 hour access to your mailbox is available, and if you are looking for a special letter or package, you will be notified by either email or phone when it has arrived. No more trips down the road to the mailbox & no theft of important mail.
The UPS pick up is Monday - Friday.
181 Upper Applegate Rd
Ruch, Oregon